The 2022 APFA Club Championships saw 9 teams come to Sydney to compete for the title of Australia's best, with 6 days of successful competition taking place from Thursday 28 April to Tuesday 3 May 2022. The Newcastle Jets defended their 2020 title, taking out the 2022 edition with a 1-0 victory over Hills United in the Championship Final.

Scroll down to see the results and find out more about 2022's contenders by clicking the buttons below!
Adelaide United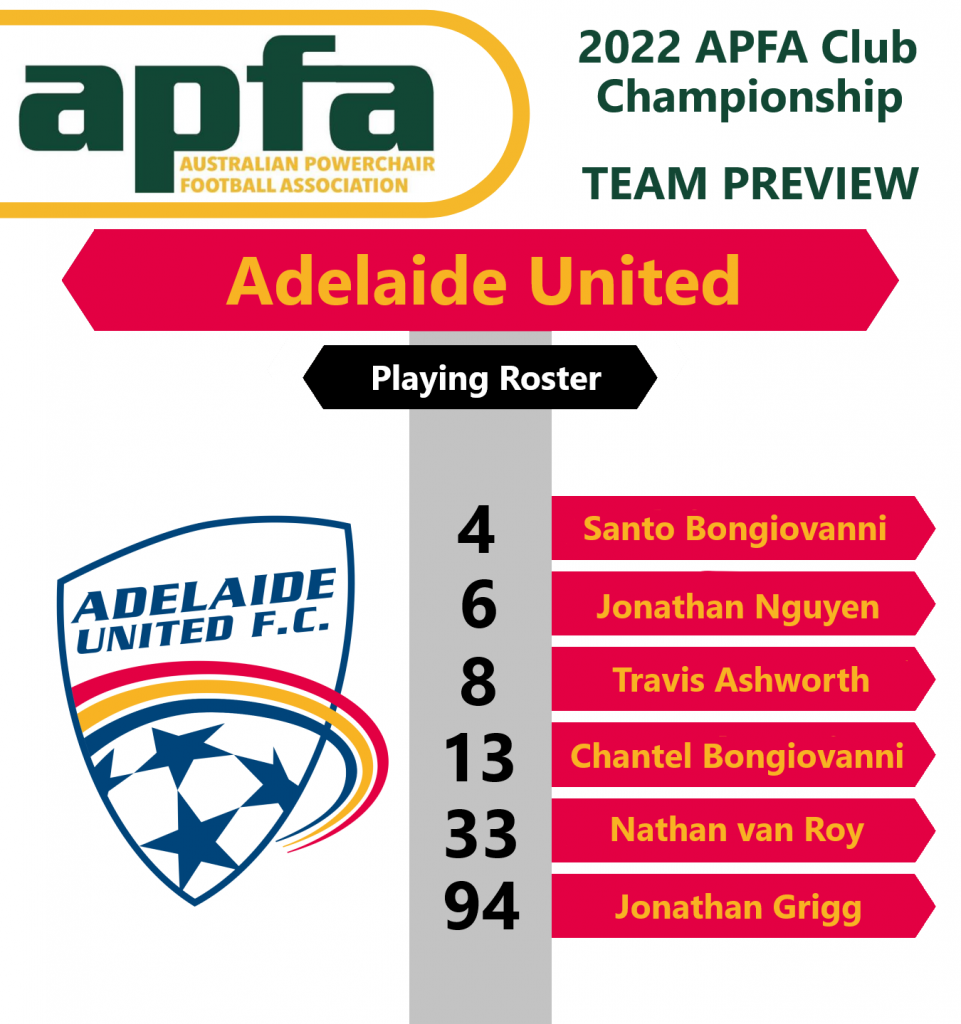 For the first of nine team previews ahead of the 2022 APFA Club Championships, here are Chris Suffield's thoughts on the Adelaide United team.
"Fresh off a successful SA Powerchair League season won by the Modbury Jets, the top players from the Jets, Campbelltown City and Adelaide Comets will come together under the Adelaide United banner for the APFA Club Championship.
Brother and sister combination, Santo and Chantel Bongiovanni are experienced campaigners and can form a lethal combination if left unchecked. Reliable team mates Jono Grigg, Nathan van Roy and Travis Ashworth will provide support on both sides of the play, ensuring nothing comes easy for their opponents. Be on the lookout for Jonathan Nguyen who lit up the SA Powerchair League last season. He'll be looking to form a three-pronged attack with the Bongiovanni siblings and take his strong form into this year's championships.
Jonathan Nguyen shared his thoughts with me on his hopes for the 2022 tournament. "We want to achieve a higher placing for this year's Club Championships! It's been two years since our 8th-place finish at the last event, and during that time we've gone away and worked diligently on improving our football as individuals and as a team. We're all pretty ecstatic for the Championships to return, and cannot wait to play against old and new rivals later this month! This year's tournament will be a great opportunity to see where we rank amongst clubs in the country."
Adelaide United will be looking forward to surprising a few teams and I can't wait to see just how much they've improved. They're sure to be challenging opponents for everyone."
Brisbane City
Up second in our 2022 APFA Club Championship team previews are Brisbane City. See Chris Suffield's thoughts below.
"Brisbane City will go into the 2022 Club Championship with a side featuring some of the QPFA's best talent. With the Australian Poweroos duo of Bryce Castles and Tristram Peters, Brisbane City are aiming for a strong finish at this year's tournament. Alongside them are Lions FC young gun Bailey Abra, former Brisbane Striker Darcy Clews and the late addition of current Striker Tyler Harmer as cover for Kevin Pretorius, the City man recovering from a broken leg.
I asked Bryce Castles and Tristram Peters for their thoughts in the lead-up to this year's tournament.
CS – "How much are you both looking forward to teaming up again?"
BC – "It's been a while since we've played together competitively, so I'm really excited and eager to see our combination flourish again! It'll also be good to score goals with him instead of against him."
TP – "Bryce and I haven't played alongside each other since 2018, so it'll be a great opportunity to reform that partnership. He's an amazingly talented playmaker, and we've always complemented each other's play style. I honestly can't wait."
CS – "What is Brisbane City hoping to achieve in this year's tournament?"
BC – "It's a much changed City side to our last outing in the tournament, it's going to be different going up against teammates from 2020! We're hoping to cause a few surprises with a relatively inexperienced team, with the aim to achieve a top 4 finish!"
TP – "We want to play an incredibly high tempo, good-to-watch style of play. That's the first goal. We've also got a number of new players, so we also want to introduce them to the championships. I remember my first year and how much I loved it; the atmosphere was electric and so supportive. If we can do the same for them, we're in good stead. Whatever follows, we'll seize it."
Brisbane City will be a tough opponent for any team, so look for them to make a charge towards the semi-finals."
Brisbane Strikers
The Brisbane Strikers are the third of Chris Suffield's team previews ahead of the 2022 APFA Club Championships.
"The Brisbane Strikers have reloaded ahead of the 2022 edition of the Club Championships and will be looking to at least match their semi-final appearance at the 2019 tournament. With two Brisbane Strikers teams now taking part in the QPFA League, the two sides have come together to make a challenging opponent for any team unprepared for them.
Long-term Strikers include Australian Poweroos' superstar Josh Merkas, a key player in the Poweroos' 2019 APO Cup victory, and Under 21 Australian representative Jack Parry. Joining this trio is former Brisbane City player and Under 21 Australian representative Jesse McCarthy and former Lions FC duo Mark Warren and Tom Byrne. Behind their representative trio, the Strikers are well-equipped to deal with any challenge their opponents can pose. After missing the 2020 edition of the tournament, Merkas will be looking to remind everyone of what he can do and will certainly create plenty of opportunities for his energetic teammates.
I asked Tom Byrne what he was most looking forward to about this year's tournament. Here's what he had to say:
"For me, I'm most looking forward to showing off how much I've improved since last club champs. My debut appearance in 2020 was a bit rough and I feel like I'm a far better player than I was two years ago. Back then, I was missing the simplest of chances and overall I'm a more well-rounded player now. I'm excited to show that at Club Champs and further develop throughout the tournament."
The Brisbane Strikers are going to be one of the tougher teams at this year's tournament and are sure to be there at the pointy end of this year's championship."
Canberra United
Chris Suffield gives his thoughts on the Canberra United making their APFA Club Championship debut in this year's tournament in his fourth team preview.
"Making your debut on the national stage is a big moment for any team, and Canberra United have been building towards this moment for the last few years. The Canberra Powerchair Football League is moving into its second season with Gungahlin United Football Club and Woden Valley Soccer Club fielding sides in the competition. Both teams will come together under the Canberra United banner for their debut Club Championship appearance.
I was lucky enough to see the talent in the nation's capital a couple of years ago on an APFA Development Event and am really looking forward to seeing how much they have developed since then. With a fleet of bright green Strike Forces, the Canberra United team will be hard to miss.
I asked Brandon Stroud for his thoughts on playing in this year's tournament.
CS – "What are you hoping to learn at this year's tournament?"
BS – "As the 'New Kids on the Block' we are hoping to further develop our skills in a competitive environment. As a team we want to experience the feeling of excitement and nerves from playing in a tournament and enjoy our first time competing at the APFA Championships."
CS – "What does Canberra United want to achieve?"
BS – "The Canberra United Powerchair team has provided a pathway for aspiring Powerchair Football players in the ACT. We hope that someday players from the ACT will get the chance to play for the Poweroos."
CS – "And are there any players we should be on the lookout for?"
BS – "Our team is made up of players with all different skills and abilities, making us an enigma to the rest of the competition."
I'm looking forward to seeing what Canberra United can bring to this year's championship. Could they spring a few surprises? We shall wait and see!"
Hills United
For team preview number five, Chris Suffield has a look at his own team, Hills United.
"Coming into their third season in the NSWPFA Powerchair League, Hills United finally get their chance to compete at their first APFA Club Championship. The star-studded line-up features former Australian Poweroos Jacob Cross and Chris Suffield, as well as APO Cup winning squad members Chris Turnbull and Abdullah Karim. Making the move from the Western Sydney Wanderers to Hills United is Under 21 Australian representative Matthew Mallows, while Rebecca Evans (also an Under 21 Australian representative) is jetting across from Perth to compete in this year's tournament.
Chris Suffield and Chris Turnbull both came in as runners-up at the last two Club Championships when playing for the Central Coast Mariners, while Abdullah Karim and Rebecca Evans made a run to the semi-finals in 2020 with Perth Glory. With strong players in both attack and defence, this Hills United team have set the lofty goal of trying to win this year's competition.
I asked my teammate Chris Turnbull for his thoughts on the 2022 edition of the competition.
CS – "What does it mean for you to represent the Hills family in the team's first Club Championship?
CT – "Representing hills on the national stage means a lot. Hills United have about 20 teams from SAP up to NPL in both male and female competition along with the powerchair teams. We've always been welcomed as football players first and foremost which is rare in wheelchair sports."
CS – "Your goal is to win the title, but what do you think you need to achieve that?
CT – "I would say the key to getting over the final hurdle is focus and consistency, playing at our best for all 400 minutes of the tournament. The club has high expectations for us and so do we."
Hills United Club President, Tristan Rimmer also sent his best wishes to the team. "Our club, Hills Football Association and the Hills community look forward to watching our team compete at the national level. We wish the team and coaches the very best of luck."
Newcastle Jets
Chris Suffield casts his eye over the reigning APFA Club Championship holders, the Newcastle Jets in his sixth team preview.
"The Newcastle Jets claimed the 2020 APFA Club Championship title while going on an impressive unbeaten run, taking out an also unbeaten Central Coast Mariners to clinch their victory. Led by Australian Poweroos' captain Dimitri Liolio-Davis, the squad also includes Under 21 Australian Representative Ryan Seck, the ever-reliable James Kim between the goal posts and the always crafty Chris Hastas on the wing. Joining the Newcastle squad for the 2021 NSWPFA season, Jake Vidakovic will hope to be a goal-scoring threat off the bench.
The 2020 squad adopted a long-passing, high-intensity style reminiscent of the current England side and this style has become the standard for the Jets. In the two years since their last Club Championship, Ryan Seck has gone from strength to strength, providing a spark of energy for his more experienced teammates and will be one to watch at this year's tournament.
I asked Chris Hastas a few questions in the lead up to the 2022 competition.
CS – "How did it feel to win the 2020 Club Championship?"
CH – "Winning the tournament in 2020 felt great because our league position over the past few seasons wasn't quite where we wanted it to be. So, we loved winning while also getting used to playing a new formation."
CS – "What's one thing you need to do to win back to back titles?"
CH – "I think we just need to believe in ourselves and stick to the playing philosophy we have in place. We have a good foundation and a strong togetherness among the players and coach. Just focusing on performances and the results will hopefully come as well."
CS – "And what challenges are you most looking forward to this time?"
CH – "There are a lot of fantastic teams and players in this upcoming tournament, the competition continues to get tougher and I love the way that new tactics and play styles have evolved. I'm excited to see the intensity that each team will bring to this tournament."
The Newcastle Jets will be aiming high in this year's championship and I expect them to be there when the top teams fight for the title."
South Melbourne
Team preview number seven sees Chris Suffield have a look at the South Melbourne side.
"South Melbourne will head into the 2022 APFA Club Championship with a combined side featuring the best players from South Melbourne and Melbourne City. Honing their craft in the PSV VPL competition, the boys in blue have been working on their tactical approach and will be aiming for their best ever finish in this year's tournament. With Australian Poweroos' assistant coach Robert Wright providing his input, the Victorian powerchair football contingent have been improving their skills and structure and will be keen to show this growth on the national stage.
Forming the core of the South Melbourne team are Australian Powerchair Hockey internationals Luke David and Shaun Mott, with their experience in powerchair football sure to be a key in the ambitions of their squad. Their leadership and skill, along with power and tactical nous will give the squad's other players the room to shine. Alongside these two are South Melbourne's Craig Kilby, one of the more experienced players in the squad and Chris Kessaris, whose enthusiasm and passion stemming from his Greek heritage will be clear to see. Melbourne City's other squad members include Jules North-Coombes, a Victorian veteran and intelligent customer as well as Shaun Millett, relatively new to the sport but excelling in both attack and defence. Millett will be making his debut at this year's tournament.
I asked Shaun Mott how he was feeling in the lead-up to this year's tournament.
CS – "What everyone should be prepared to see from South Melbourne in 2022?"
SM – "I think everyone should expect to see improvement throughout the squad, as both individuals and the team as a whole. We've worked hard over the previous two years after a very disappointing performance in the 2020 championships. With the addition of a couple of Strike Forces and a couple of players from fellow Victorian club Melbourne City, we want to show how competitive we can be."
CS – "And what are your goals for the tournament?"
SM – "I think we would love to push ourselves as far as we can go this championship and we are very excited to test ourselves against the best in Australia."
With their commitment to improve and a couple of years to do so, expect South Melbourne to make every match a tough contest."
Sydney FC
In his eighth team preview, Chris Suffield gives us his views on a new-look Sydney FC side.
"Sydney FC have embraced a youth-first philosophy in 2022 and will be full of confidence and energy leading into the 2022 APFA Club Championship. Some of their more impactful recruits for the season include Joshua Ryan (previously at Hills United) and long-term Western Sydney Wanderer Daniel O'Brien. Linking up with them is one of the more experienced players in the squad in Mitchell Albert, while Fletcher Ball and the increasingly confident Harry Simmons will bring energy and enthusiasm to the court for the entire 40 minutes of each match. To add some depth to the squad, Sydney FC have also recruited young Hills United player Lachlan Ninham for the tournament.
Having faced this youthful side a couple of times already this season, they are a team who can surprise you if you are not well prepared. Their players are never shy to go into a challenge against a more experienced opponent and fight for the entire length of the match. What is also impressive to see is the leadership of a player the age of Joshua Ryan who, at 10 years old, is already running the show.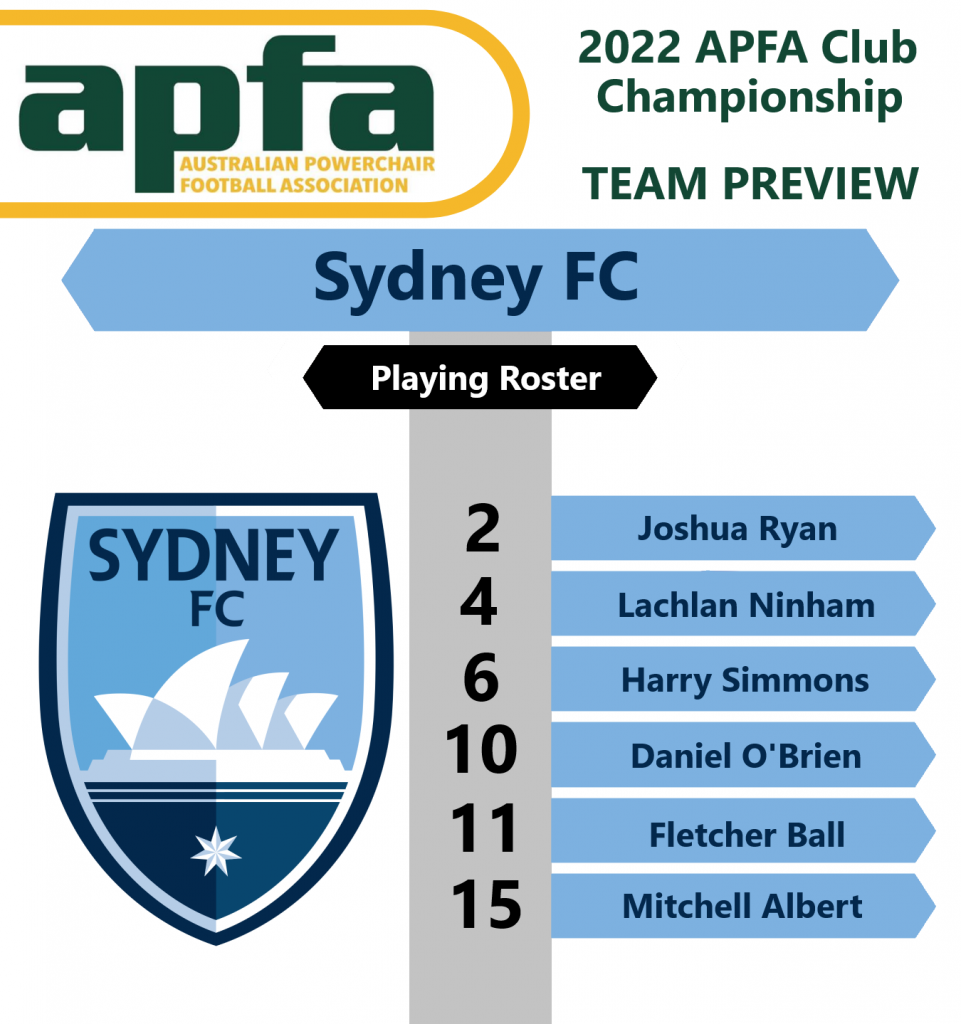 I asked Daniel O'Brien how he was feeling in the lead-up to the Club Championship.
CS – "What has it been like playing for Sydney FC with so many talented young players?
DO – "it has been amazing playing with the Sydney FC team. We have all learnt so much and enjoy the game even more because we get to play with our own age group."
CS – "What are you hoping to achieve or learn from this tournament?
DO – "I am hoping to be able to play against strong teams, not get too nervous, hold my structure. And of course show all the older players what we are made of."
CS – "Who do you most want to play against and why?
DO –"I really want a rematch against the Jets. [Our last encounter] was difficult and I don't feel like we played our best. We [have been training well and] have learnt a lot since that match and have grown in strength. I am confident that we will do well."
Sydney FC will be looking to continue growing and the 2022 APFA Club Championship will be a crucial part of this journey. I am curious to see how this group will go at a major tournament."
Western Sydney Wanderers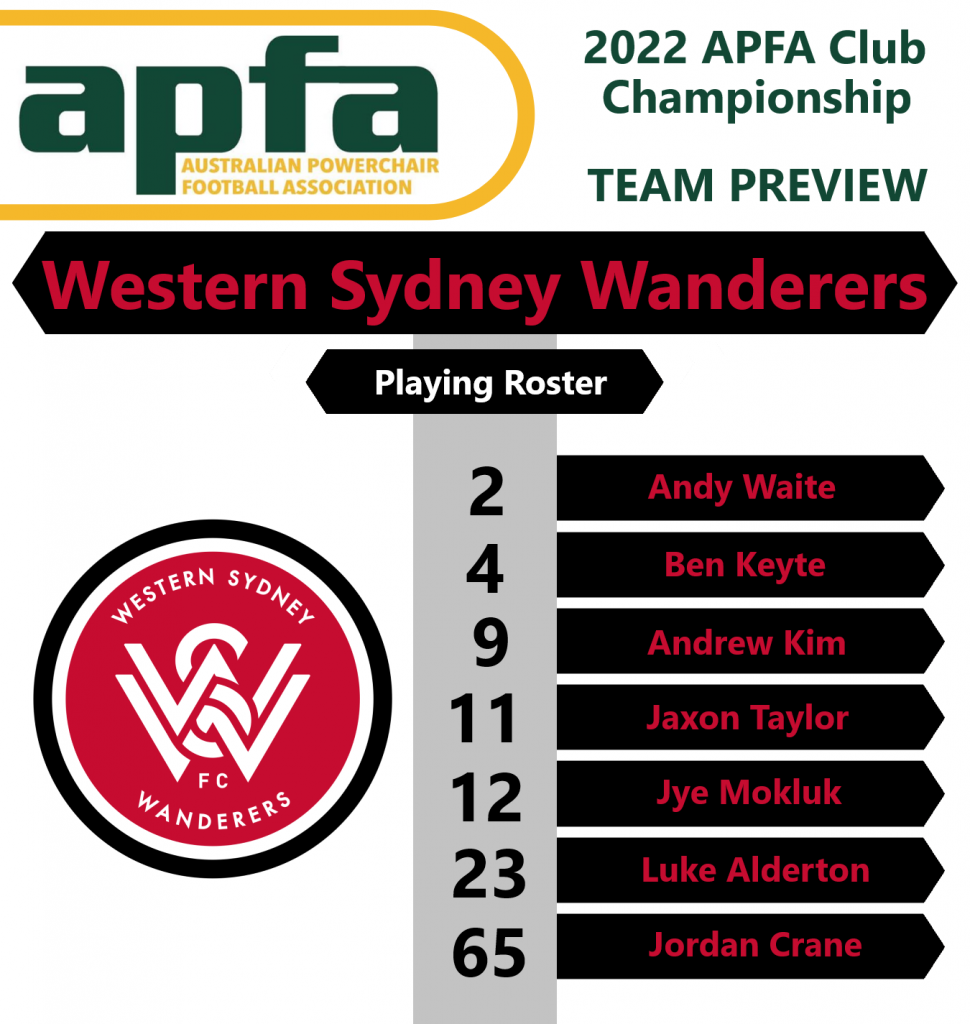 In his final team preview, Chris Suffield casts his eye over the Western Sydney Wanderers.
"The Western Sydney Wanderers have embraced a different approach in 2022, adding to their experienced roster with the addition of former Sydney FC captain Jordan Crane. Alongside Crane is fellow 2019 APO Cup Winning Australian Poweroos teammate Andrew Kim, while the constant presence of Andy Waite between the goal posts and Ben Keyte roaming the wing ensures any matchup with the red and black will be a tough one. Adding some depth and energy off the bench are Jaxon Taylor, a sneaky and crafty winger, and Jye Mokluk whose versatility can see him filling many different roles.
The major coup for the Wanderers at this year's Club Championships is the signing of New Zealand powerchair football captain Luke Alderton. Having also competed for the Central Coast Mariners, Brisbane City and the Wellington Phoenix in previous tournaments, Alderton brings a wealth of different experiences to this red and black team. His tenacity and leadership will be indispensable if the Wanderers are to make a deep run in the 2022 APFA Club Championship. With Crane's delivery from set-pieces, the Wanderers are sure to be dangerous in front of goal if given opportunities.
I asked Jordan Crane for his thoughts on his new club and hopes for the tournament.
CS – "How does it feel going into Club Championships representing a new team?"
JC – "It feels great going into Club Champs playing for the Wanderers. I am looking forward to playing with old friends. I love the fact I'm only a player and not a captain because I can just concentrate on playing well for my team."
CS – "Is there any team you're particularly looking forward to playing against and why?"
JC – "I am looking forward to play against Hills because I believe Hills are the favourites at this year's Club Championship. I can't wait for tough challenge of playing against them."
With less than a week to go until the first hit-off of the tournament, the Wanderers will be aiming for the stars and hoping for a run deep into the knockout phase of the 2022 APFA Club Championship.
I hope everyone has enjoyed these team previews and I look forward to reviewing the tournament once a champion is crowned! Good luck to everyone. I can't wait to challenge you on the court!"